OUR PROMISE // ETHICS
WOMEN OWNED FEAT. WOMEN DESIGNERS
Lane & Kate is created, run by, & powered by women designers who are delicate in their energy yet strong in their vision.
ETHICALLY SOURCED DIAMONDS & GEMSTONES
All diamonds & gemstones found in Lane & Kate are ethically sourced with both our natural & lab grown diamonds fully certified.
LOCAL TO CINCINNATI AS OUR FEATURED LOCATION
A lot of visitors at Lane & Kate ask if we are local & we are proud to say we are as local as can be as natives to Cincinnati.
The Ethics
Women Makers // All of our designs featured at Lane & Kate are from independent, women designers that hold the same ethics true.
D

esigning w a process that protects our Mother Earth from design to production,

 ethically sourcing their stones & gold, & by always being willing to re-create a piece from something old to something new using heirlooms. Our featured designers craft 

each piece w their own unique intention.
Ethically Sourced Stones // All gemstones chosen for our custom jewelry at Lane & Kate are made using ethically sourced diamonds & gemstones.
Each barely there beauty in Lane & Kate is handmade to order to reject the unnecessary waste seen from mass production, our diamond partners ensure our stones & metals are ethically sourced of the highest quality, & we give you certifications for all diamonds you choose with Lane & Kate to validate standards. We also source lab grown diamond often to add even more sustainability to the custom choosing. 
Lane & Kate, Your Local Makers // A lot of visitors at Lane & Kate ask if we are local and we are proud to say we are as local as can be.
By choosing to Create with Lane & Kate, you are also choosing to support a local, women owned business. Ellana Hagedorn, the owner & designer, is from Cincinnati & truly tries to support all other makers known here who call Cincinnati home. Lane & Kate has a local, downtown goldsmith for repairs, sizing, & making heirlooms new. We also have a local maker who we use for men's bands, 14kt chains, & a few other styles in house. 
Ethics & Aesthetics. Lane & Kate.
OUR PROMISE // WARRANTIES
LIFETIME FREE RESIZINGS
We cover the cost of resizing for all custom pieces for the lifetime of the piece. We know women's bodies naturally change & we wish to celebrate that.
WARRANTY FOR REPAIRS
We cover the cost of repairs for our custom pieces for normal wear & tear for the first three years but we are also just here for all needs of your pieces over time.
A THANK YOU GIFT
Custom engagement clients who choose the diamond, design, & wedding bands with us recieve a small discount on future purchases as a thank you for creating with us.
Care + Promises
Everyday With Custom Your Barely There Beauty
Our Dainty Rings // Treat your rings gently & avoid wearing delicate pieces during times that will cause them to catch, bend, or apply pressure like when lifting something heavy or working out. This can cause the band of your rings to pinch in opening the prongs leading to stones falling out.
Our Dainty Chains // Avoid pulling on necklaces & chains because that can cause them to snap & be gentle when clasping. If your jewelry becomes tangled, calmly set aside time to sit with the chain & gently work out the kinks. Running out the door trying to untangle or quickly changing clothing can put unneeded strain on the chains as you tug on the knot. For our fine jewelry, we do cover the first chain break while you get used to treating your jewelry with care. 
Times to be Most Aware of Jewelry
Swimming // For 14kt gold, showering & washing your hands is absolutely fine for your jewelry. While swimming, however, the water dehydrates you making your hands smaller for rings to possibly slip off. In a pool you can usually find your ring but if an ocean wave tumbles you in you may wave goodbye to your ring forever so just use your best judgement. 
Hot Tubs // Due to the heat, hot tubs have a very high chemical content that could harm your jewelry so we suggest taking jewelry off in hot tubs or in any high chemical content.
Morning Beauty Routines // While the oils & lotions we use for skincare will not hurt your jewelry, they can cause a build up under your stones to make the design dull. To keep your jewelry looking new with gemstones shinning bright just apply jewelry after your beauty products. 
The Gold Hues
Gold is a perfect metal for fine jewelry which is why we work in 14kt gold as well as some 10kt gold that is even stronger. 
Yellow Gold // This is the purest & least high maintenance gold of the three. Yellow gold is gold in a pure state & shows more details on the rings to be. Yellow Gold is forever.
White Gold // You can only make the yellow gold so white so alloys are added to lessen the yellow hue of the pure state of gold. All white gold is plated with a sister metal to platinum, called rhodium, so there is maintenance to refill your piece every couple of years. There is a plating for all white gold jewelry. White gold is a strong gold for rings & blends in perfectly with diamonds.
Rose Gold // While we love the pink hue, rose gold is the most soft of the hues due to added copper alloys for the color so be gentle. We are happy to set your diamond in rose gold but just a little more care is needed. 
Cleaning Your Jewelry 
Complimentary Cleaning // Lane & Kate does offer free cleanings for all custom pieces! We just need a full day with your piece & the next morning it is yours again to look new!
Lane & Kate Cleaning Kit // At the boutique, we do have cleaning foam as well as pen tools for you to purchase to keep your jewelry clean at home! Safe for all jewelry.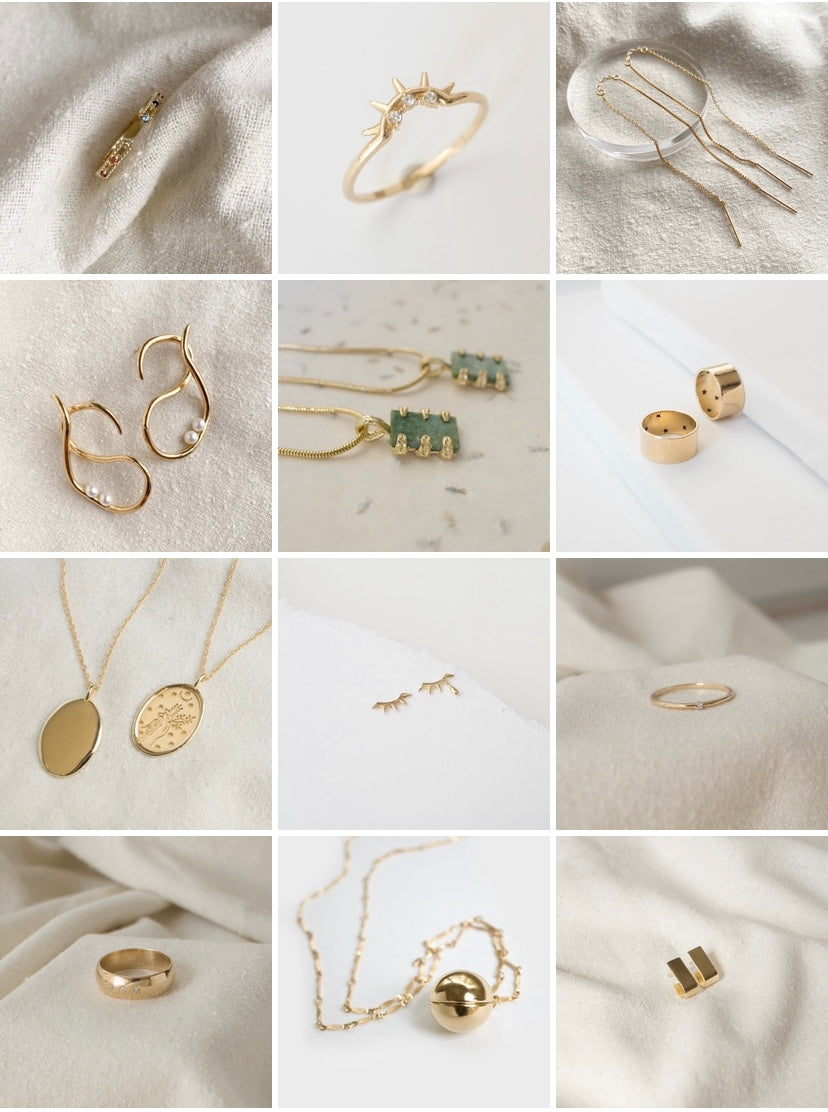 FILLED FASHION JEWELRY SELECTION FOUND AT THE BOUTIQUE
Our non genuine, fashion jewelry is also handmade to order by women makers who use the highest-grade 14kt gold fill for their jewelry & can last if careful around water, oils, & lotions. 
No fingers turning green here or nickel to hurt your ears! We can even help with a new fill to keep the fashion jewelry looking new.
Note // Fashion jewelry is not made to last like fine jewelry given the price point & softer materials used so repairs do have a small fee.
Thank You for visiting to learn more about Lane & Kate
 Hope to see you soon in our favorite place to be. Find us GIA certified diamond babes in Over The Rhine, Cincinnati.