14KT PIERCING PARLOR
Regular price

Sale price

$65.00
REQUIRED & TAKEAWAYS

ID IS REQUIRED so please bring to the event & arrive 30 minutes before for paperwork and jewelry selection.

Standard piercings are $65.00 not including the cost of jewelry. No refunds two weeks prior to the event as this is a deposit to reserve our artist's time. All jewelry supplies and time slots are limited w rights reserved to end walk ins w a long day made with the event. These are fine jewelry pieces with most having genuine diamonds so price will reflect the quality. Each piece is handmade to order. No minors as with new requirements of ID we are not able to book this year. We will have aftercare instructions and supplies for you to purchase if interested. 

Feel free to chat with Lane & Kate or Skincraft if you have any questions about piercings or pricing. Email manager@laneandkate.com or call either studio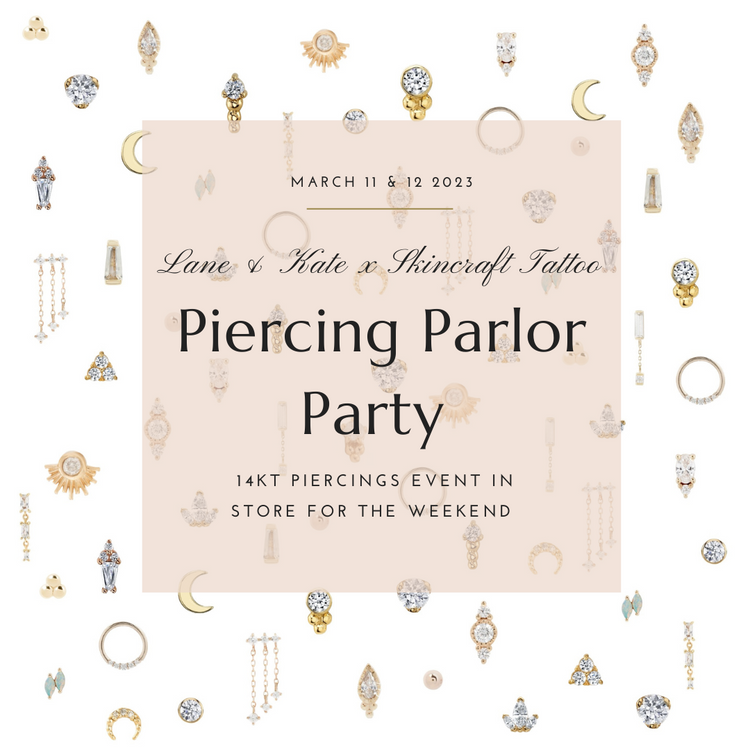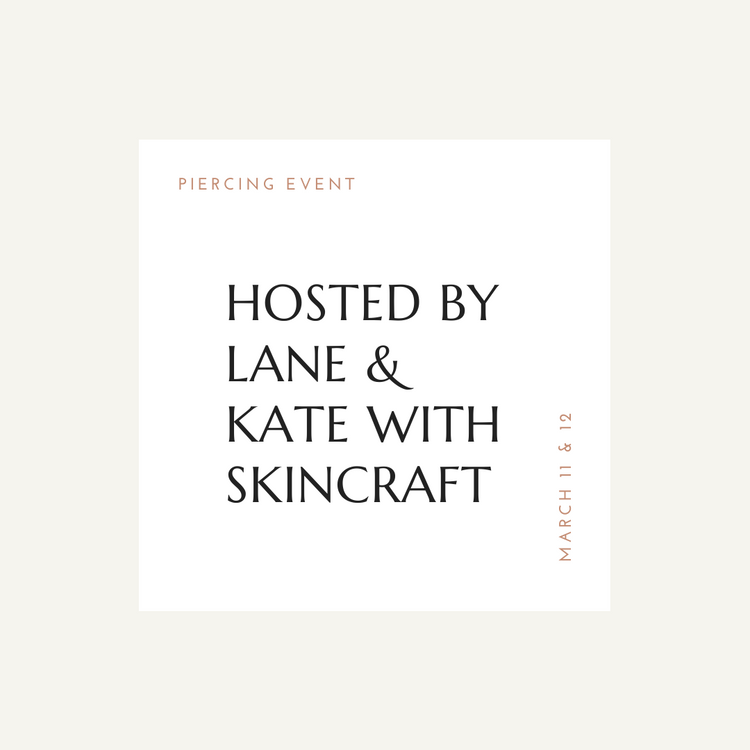 Party Details
Lane & Kate w Skincraft // 14kt Piercing Parlor 


The daintiest 14kt gold earrings featuring the smallest sprinkling of diamonds w piercings by Skincraft

...

Its back BABES! Lane & Kate w Skincraft will be hosting our long awaited return of our piercing event for any jewelry styling you can dream from collarbone up from morning until we feel. Join us all day for piercing, coffee & cocktails w light bites, & 14kt jewelry all around our curated lounge.  

We will be starting piercings at 11am & will keep the event going well into the night accepting a few walk-ins after our slots are closed both Saturday & Sunday. So book now for the time you'd like to come by for for a sure thing with diamonds & feminine vibes around to lounge. 
...

REQUIRED & TAKEAWAYS // PLEASE READ
ID IS REQUIRED so please bring to the event & arrive 30 minutes before for paperwork and jewelry selection.
Standard piercings are $65.00 not including the cost of jewelry. No refunds two weeks prior to the event as this is a deposit to reserve our artist's time. All jewelry supplies and time slots are limited w rights reserved to end walk ins w a long day made with the event. These are fine jewelry pieces with most having genuine diamonds so price will reflect the quality. Each piece is handmade to order. No minors as with new requirements of ID we are not able to book this year. We will have aftercare instructions and supplies for you to purchase if interested. Feel free to chat with Lane & Kate or Skincraft if you have any questions about piercings or pricing! 


Time Slot Details //

Purchased times will act as a deposit for the time slot of your piecing with one time slot per single piercing w fee added if you would like two
 
Please arrive 30 minutes before your time scheduled for paperwork & picking out your jewelry


Single Slot Needed To Purchase For Each Listed // first earlobe pair, second earlobe pair, third earlobe pair, tragus, any single helix, single cartilage, conch, rook, flat, & nose piercing *Earlobes done on both sides count as one so you will not be charged the extra piercing fee!


For each time slot you purchase we can complete a one piercing per slot. If you would like two classic piercings during your slot an additional $20.00 will be added towards your cost at the time of event for the second piercing when you arrive at Lane & Kate (i.e. a earlobe pair of piercing & a tragus would be an extra $20 for the tragus add on)

Some hoops will be available w Dawn's direction


If you would like more than two of the piercings listed please purchase a second time slot as these are more skilled piercings and take more time when wanting two.

Jewelry Details //

Piercings are 14kt gold w threadless, flat backs specifically made for piercing w stainless steel posts // Average cost $200 for diamond studs


We will have a selection of diamond studs to purchase the day of the event pictured in our images.

The pieces range from $78 for just gold styles like our moon & beads to $350 for larger diamond studs with some lovely styles, stones, and prices in between.

Average cost is $200.00 as the styles are 14kt with genuine stones for a higher price point reflected on value but so fall above and below. Higher priced designer styles will also be available.
Collab Details //

Featuring Skincraft Piercing & Tattoo 

The lovely Dawn, owner of Skincraft Tattoo, will be our artist for this event. She is not only the owner w her partner of Skincraft but she is also a master of her craft. Dawn created the piercing industry standards in Cincinnati so this evening you will be in great company for styling all your piercings. She will guide you to the best placements & care.

Featuring 14kt Diamond & Gemstone Studs By The Kind Find

These pieces are handmade to order using 14kt gold w titanium seamless backs so you can love the diamonds you wear with comfort! Lance is the maker & has endless certificates for piercings. He leads the industry in education as well for the best made jewelry we could find for our event for you.

Annoncing Soon

We will have a local coffee shop featued in the boutique for caffine fixes & feel free to make that into a expresso martini with our full bar open!

Pair w local bakery bites around the boutique.

...

Lane & Kate w Skincraft Tattoo & Piercings
// Styling The Kind Find Piercings